ارسال به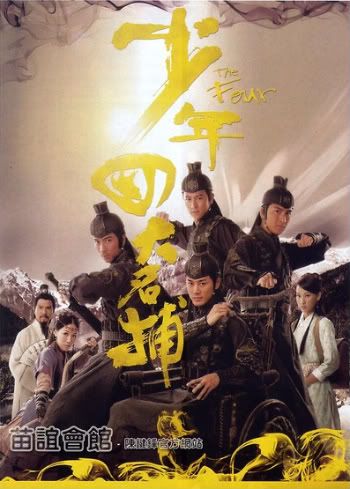 Starring:
Ron Ng
Raymond Lam
Kenneth Ma
Sammul Chan
Dominic Lam
Kate Tsui
Crystal Tin
Selena Li
Cilla Kung
Vivi Lee


Release year: 2008
Language: Cantonese
Subtitle: English

Episodes: 25



SYNOPSIS:
A drama adapted from the popular martial arts novel written by Wen Ruian about the four great constables, "Heartless", "Metal Hand", "Life Chaser" and "Cold Blood".

Hardhearted and smart Mo Ching (Lam Raymond) became a crippled when he was young. Fortunately Ching has met Chu Kot Ching Ngo (Lam Ka Wah), the Head of the Sheriff Bureau, and has learnt from him his unparalleled skills of using concealed weapons. Chu has once helped the Sung Emperor recover an invaluable piece of article that the empire has long lost. To reward Chu, the Emperor reopened the Sheriff Bureau. In addition to Ching, Chu has recruited Zeoi Ming (Sammul Chan), a cunning swindler, Tit Sau (Ma Kwok Ming), an honest guy and the cold-blooded Lang Huyt (Ng Cheuk Hai, Ron), and called them The Four.

The Sheriff Bureau has cracked many difficult cases under the leadership of Chu. After having gone through thick and thin with the others, Ching has become a lot less arrogant. He has fallen in love with Song Chi Yin (Tsui Tsz Shan, Kate), a herb doctor, but she is only using him to sow dissension amongst The Four, furthermore deepens the hatred between him and Sau. The King of Qi Chiu Cheong (Tsang Wai Kuen) and the treacherous minister Choi King (Lau Kong) are plotting to revolt against the Sung Dynasty. Chu risks his life to ruin their plan but by doing this, he is also driving the bond between him and The Four to the verge of disintegration.

UPDATE: RAPIDSHARE LINKS ARE ADDED
EP 1
http://www.megaupload.com/?d=H2CCQ1UY
EP 2
http://www.megaupload.com/?d=1HTBZDG5
EP 3
http://www.megaupload.com/?d=IQF1SJ92
EP 4
http://www.megaupload.com/?d=CFXOA116
EP 5
http://www.megaupload.com/?d=LNJDDPJK
EP 6
http://www.megaupload.com/?d=P66H3S9E
EP 7
http://www.megaupload.com/?d=7YFW15AU
EP 8
http://www.megaupload.com/?d=4XGZ5HKI
EP 9
http://www.megaupload.com/?d=6TLOUARV
EP 10
http://www.megaupload.com/?d=VBHJ0A0D
EP 11
http://www.megaupload.com/?d=8UYSL9Z1
EP 12
http://www.megaupload.com/?d=1YRJ57M0
EP 13
http://www.megaupload.com/?d=PH2OQ3XF
EP 14
http://www.megaupload.com/?d=HCSC4ZNA
EP 15
http://www.megaupload.com/?d=I5XQ0AP2
EP 16
http://www.megaupload.com/?d=8PH15N00
EP 17
http://www.megaupload.com/?d=ZXKXL9XU
EP 18
http://www.megaupload.com/?d=NWJWFD59
EP 19
http://www.megaupload.com/?d=AZ0P6Z3N
EP 20
http://www.megaupload.com/?d=DGHVF6KQ
EP 21
http://www.megaupload.com/?d=6UC6KB8N
EP 22
http://www.megaupload.com/?d=2BN8XTES
EP 23
http://www.megaupload.com/?d=DZ3TYTK0
EP 24 END:
http://www.megaupload.com/?d=IB0VS2U5
SUBTITLE:
ENG SUB 1-2
http://www.megaupload.com/?d=G21KM4DT
ENG SUB 3-6
http://www.megaupload.com/?d=KF58XBEX
ENG SUB 7-10
http://www.megaupload.com/?d=4GAVT7Y0
ENG SUB 11-12
http://www.megaupload.com/?d=DDXYIDN8
ENG SUB 13-14
http://www.megaupload.com/?d=1RLFP741
ENG SUB 15-16
http://www.megaupload.com/?d=JZ72M4IQ
ENG SUB 17-20
http://www.megaupload.com/?d=YAO4EWAJ
ENG SUB 21-22
http://www.megaupload.com/?d=7P1RJCKS
ENG SUB 23-24 END:
http://www.megaupload.com/?d=FLXG2T9U
Thanks to anonymous
EP 25 END:
http://www.megaupload.com/?d=NE5W22I5
OR
http://www.megaupload.com/?d=FYPZGAH1
ENG SUB:
http://www.megaupload.com/?d=94B6KN4Z
credit: crazynet2008
MIRROR LINKS:
RS:
CREDITS: insc3n3
EP3:
http://rapidshare.com/files/150675977/TF03.avi.001
http://rapidshare.com/files/150681759/TF03.avi.002
http://rapidshare.com/files/150687595/TF03.avi.003
THE REST OF THIS DRAMA IS IN:
http://rapidshare.com/users/EVBDE6