ارسال به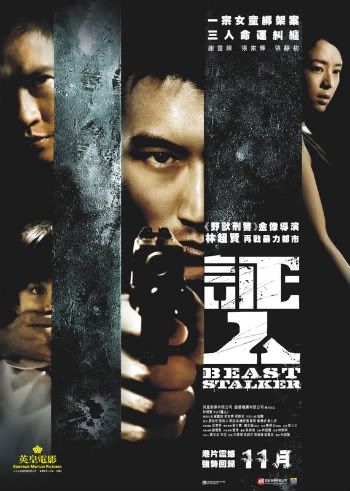 Genre: Crime, Drama
Starring:
Nicholas Tse Ting Fung
Zhang Jing Chu
Nick Cheung Ka Fai
Sherman Chung Shu Man
Liu Kai Chi
Patrick Keung Hiu Man
Derek Kwok Jing Hung
Miao Pu
Release year: 2008
Language: Chinese - Cantonese
Subtitle: English
SYNOPSIS:
A traffic accident changed their lives forever. In capturing wanted criminal Cheung Yat Tung, Sergeant Tong Fei was involved in a gunfight and car accident that put the criminal in a coma. But in the process he also crippled an fellow officer, and mistakenly shot dead the elder daughter of public prosecutor and single mother Ann Ko. Unable to handle the guilt, Tong Fei succumbs to a fog of pain. Ann Ko, meanwhile, pours all her love and attention to her younger daughter Ling.
Three months later, the criminal Cheung Yat Tung awakens from his coma. Ann Ko, who had been working hard on bringing him to justice, insists he stand trial immediately. Professional killer Hung King completes his assignment of kidnapping Ann Ko's daughter Ling. Tong Fei attempts to cut him off, but fails to stop Hung King or to rescue the girl. Soon, Ann Ko gets a phone call, telling her that if she wants to see Ling again, she will drop all charges against Cheung Yat Tung. And if she goes to the police, they will kill Ling.
Tong Fei swears that he will rescue Ling, seeking to redeem himself from his past mistake. With assistance from a former colleague fondly known as Master Sun, Tong Fei gradually comes closer to locating Hung King's hideout, but the most important clue is the information in Ann Ko's cell phone. However, Ann Ko hates him so much that she refuses to let him have anything to do with the case. Tong Fei has no choice but to beg for help from former co-workers with whom he did not get along.
Ann Ko is backed into a corner, but she is determined to refuse help from Tong Fei. In a misguided attempt to save Ling's life, Ann Ko steals the case files
برای دیدن لینكهای دانلود به ادامه مطلب مراجعه كنید
.



DISC 1:

PART 1: http://www.megaupload.com/?d=KXERB8RM
PART 2: http://www.megaupload.com/?d=YDHCS4AI
PART 3: http://www.megaupload.com/?d=SQTNBEH4
SUB: http://www.megaupload.com/?d=BQJFS72D


DISC 2:

PART 1: http://www.megaupload.com/?d=DBQDRAXP
PART 2: http://www.megaupload.com/?d=1O9J6OZ1
PART 3: http://www.megaupload.com/?d=7STVTHV1
SUB: http://www.megaupload.com/?d=FMJE4LKP


ALTERNATE LINKS (INTERCHANGEABLE WITH MU LINKS):

DISC 1:
PART 1: http://www.sendspace.com/file/0qdyse
PART 2: http://www.sendspace.com/file/104kub
PART 3: http://www.sendspace.com/file/29be1o
SUB: http://www.sendspace.com/file/rgibsl

DISC 2:
PART 1: http://www.sendspace.com/file/29tm44
PART 2: http://www.sendspace.com/file/rda5cd
PART 3: http://www.sendspace.com/file/pt76e7
SUB: http://www.sendspace.com/file/f504gb